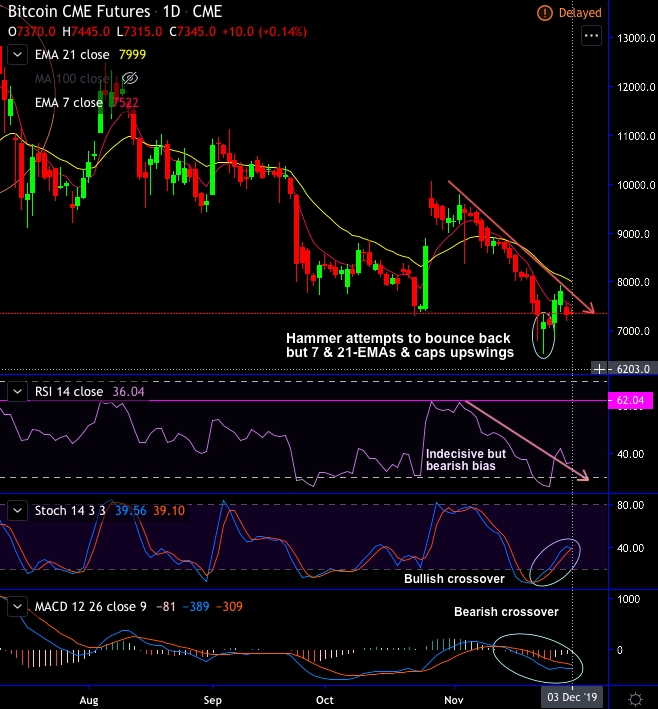 Derivatives (Futures & Options) trading is one of the popular trading mechanisms in the conventional financial markets, and it is no exception for the cryptocurrency avenues as well. CME BTC Futures price chart shows previous gap-up is now filled-in, gap-down pattern has now formed, and reckon good time to build fresh longs around $6-6.5k levels on oversold sentiments during the expiration. One can make out back-to-back hammer candles formation at 7330 and 7165 levels respectively.
CME Bitcoin futures contracts (BTCG20) lined up for trading:
A new round of quarterly Bitcoin futures contracts opens on the CME this week. BTCG20 is dropped about -$490 (i.e. 6.25%).
The new open gives traders an opportunity to enter a new contract and make a new assessment on whether they are short or long entering the end of the year period. Information around early orders is likely to determine how back-seat investors will choose to enter positions.
There are plethora of cryptocurrency platforms that offer futures trading arrangements, Bitmex, OKEx, Binance etc. All these renowned exchanges have managed to fetch the reputation of the world's largest futures cryptocurrency exchanges.
OKEx is the USDT-margined futures with quite a few prominent features such as, offering 0.01-100x leverage, face value as less as 0.0001 BTC, Tice Size of 0.1, linear contracts and intuitive trading experience. 
The Bakkt platform has strikingly been establishing new records and has just flashed a new one on its Bitcoin futures weekly volume of $124.0 million (+89%) and its highest open interest as well of $4.3 million (+219%).
The physical settlement of BTC at Bakkt facility came in with the huge hopes of turning institutional clients to hold actual coins. However, the willingness to own actual BTC, even in Bakkt custody, hasn't been as high as expected.
Amid all these developments and recent trends in crypto-derivatives markets, the underlying price sentiment has been puzzling. Bitcoin price hasn't gone anywhere from the grip of both bulls and bears, although it looks to be little weak price sentiments of late. BTCUSD (at Coinbase) price has been drifting in sideways, we could observe some sort of resistance to the prevailing downtrend at strong support at $7,147 levels. Although the intraday trading sentiments of the underlying price (BTCUSD at Coinbase) suggest some buying momentum, 7DMA caps the upswings.